Silversea
About the Fleet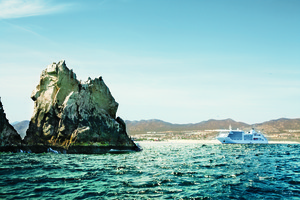 One of the finest luxury cruise liners in the world, Silversea offers all-inclusive, distinctive European-style cruises. Known for their fine dining and intimate spaces, they offer one of the highest-rated cruise experiences on the market.
The fleet of seven small ships - each hosting between 100-540 guests - travels to out of the way, exotic ports of call closer to the heart of each destination. Unlike those travelling on large resort-style ships, passengers travelling with Silversea can avoid time-consuming tendering, allowing for more time spent exploring each breathtaking new destination.
Known for providing some of the largest accommodation at sea, each cabin boasts ocean views, a private balcony and butler service. Designed for the luxury cruise market, each ship offers a teal taste of the golden age of cruising through elegant, 1930s inspired Art Deco interiors and a timelessly glamorous ambiance.
With gentlemen hosts, regional experts, wellness programmes and a partnership with Grands Chef Relais & Chateaux, Silversea cruises provide traditional, stylish, luxury cruises ideal for passengers looking to make the most out of each port of call.
Follow Silveraea Cruises on youtube at SilverseaCruisesTV
Unique Features
Fine Dining - The only restaurants at sea in partnership with Grands Chef Relais & Chateaux.
Stars Supper Club - Cabaret and supper club inspired venue.
Silver Perspective - A series of enrichment cruises, covering history and culture. Lectures, informal talks and demonstrations compliment each destination visited. Featuring celebrity chefs, best selling authors, noted historians and world affairs experts.
Destination Consultants - Carefully selected experts, chosen for their knowledge and expertise on each individual region sailed to. Available on most voyages, they lead informal discussion on culture and history, highlighting the must-see areas and experiences of each port.
Cruise Lite Dining - Part of the Wellness Programme, complimenting fitness classes and seminars for better health or weight control. Menus feature low fat yoghurt smoothies, vitamin-booster juice blends, as well as vegan, vegetation and low-carb meals.

Get the very latest news by following Silversea on twitter
Get the very latest news by following Silversea on facebook